Mt. DAISEN has been counted up as one of the Japanese Four Famous Mountains (representative mountains of Japan) since olden days.
Mt. DAISEN is also called as HOHKI-FUJI because DAISEN resembles to Mt. FUJI when looking from west direction, and prides itself on beauty selected as one of the Japanese 100 famous views.
MASUMIZU Highland is the highland resort located on the mountainside of DAISEN, the beautiful mountain.
It is able to view the imminent powerful summit of DAISEN and to view scenery including the Sea of Japan, the cityscape of western area of Tottori Prefecture and up to the adjacent Shimane Prefecture below your eyes.
Please enjoy MASUMIZU Highland in her four seasons in majestic nature showing every different aspect through 365 days.
* The Japanese Four Famous Mountains: Representative Four Mountains in Japan
* HOHKI: Old Province Name for Western part of Tottori Prefecture
Derivation of "MASUMIZU"
"MASUMIZU" Named after Fresh Crystal Stream upwelling from Anywhere.
A lot of spring water is preserved even now and there are many folk tales connected to the famous water.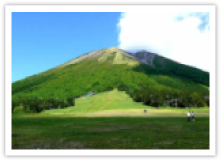 Certified as "Loversf Holly Site" 2010 ô
We pray two of your happiness continues eternally and gets together strongly.
MASUMIZU Highland has been certified as "Loversf Holly Site" in June 2010 as a romantic place suitable to make marriage proposal.
We are preparing "Loversf Holly Site" monument, "Love Fortune Slip" and "Love Knots/ Love Locks" for the important "Remembrance" of the day to leave "Pledge Hidden in the Heart" with locked at the Observation Deck.
Seats for couples decorated with cute hearts are also prepared on the Expanse Lift.
Couple time leading up to the Observation Deck at summit is staged.
MASUMIZU Highland cheers both of you. Please put MASUMIZU Highland to use for your memorial time with your loved one.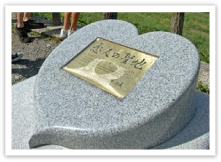 Expanse Lift ô Impressive Location Spreading Below Your Eyes !
Privilege limited to the mountain is the looking down of glorious view.
What is booming at MASUMIZU Highland irrespective of age and sex is the "Expanse Lift" priding the longest in Chugoku Region of Western Mainland, Japan.
Setting out the Observation Deck at lift top terminal, taking about 8 minutes.
Feeling comfortable breeze, wrapped by the odor of trees and flowers, spending special time which is unable to go through usually, and enjoying the sense of air walking, those are charming ones.
¦ Animal companion is acceptable on board and lap robe free rental service is available.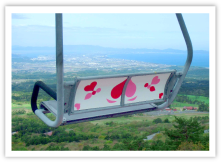 Glorious View Spreading at 900 meter Elevation!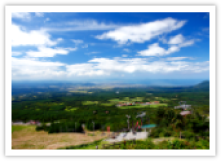 The top terminal of Expanse Lift is the Observation Deck located at about 900 meter elevation.
Commanding a panoramic view of the Sea of Japan, Yumigahama Peninsula and up to Oki island in adjacent Shimane Prefecture is available on fine days.
"Love Fortune Slip" and "Love Knots/ Love Locks" are prepared at around the approach to Observation Deck none but the "Loversf Holly Site".
Love Fortune Slip you drew is prayed with great care at saitoh Great goma Buddhist Memorial Service at Daisenji Temple.
When you reach to the Observation Deck, there is a heart shaped "Loversf Holly Site" Monument, and you may enjoy the glorious view sitting on the special seats in front of the monument which are only for you.
Five "Couple Seats" are arranged at the lift.
It is recommended to find out your favorite things.
Also, sun set and night scene are able to see at "Romantic Summer Night Tour" limited to summer season and breathlessly romantic and beautiful scenery expands.
Please enjoy good use of time with your lover, friends or family while viewing the glorious scenery for which many people are felt the sense of drawing into the beautiful brilliancy.
It is good for you to fully enjoy air travel while enjoying imminent glorious scenery with swinging on the lift at your down-bound or with splendid as well as careful walking down to fully experience the nature of highland.
Breech Forest Spreading on the YOKOTE-MICHI Road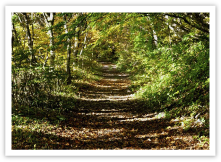 This YOKOTE-MICHI is an ancient road originated at Nobusuke, Kawakami-mura, Maniwa-gun, Okayama Prefecture, traveling in north-south direction almost horizontally at 800 meter elevation on west skirt of Mt. daises and leading up to the grounds of Daisenji temple.
The YOKOTE-MICHI Road was named after the fact that the road travels in horizontal direction (YOKOTE).
This has been the official road connecting Daisenji temple and Kyoto or Mt. HIEIZAN recent times.
Also, since the road has been used as migration path for DAISEN auction market for horses and cows, the area deeply involved with Japanese cows and is told as the birthplace of Japanese cows.
The most using portion of the road is about 3.5 km between Daisenji temple and koyanagi-wakare (branching point).
The road is flat in breech trees and Mongolian oak trees on 800 to 900 meter elevation; mile stone JIZOs (guardian deity of children) are standing in a row along both sides road, where both nature and history are enjoyable.
"Expanse Guide Books" are available.
Guide books including large panorama from observation deck, YOKOTE-MICHI stroll on ancient road selected as the top 100 of historical roads, starry sky vision, etc.
Why donft you create beautiful memories while feeling flowering plants in four seasons and history?
yPlease be free to ask for details, fee, etc.z
Expanse Lift Opening Hours
¦ Closed in Winter Season
Weekdays / 10:00 to 17:00
¦ Fixed Holidays / Tuesdays
yWe are open in Golden Week, Summer Vacation and Foliage Seasonsz
Weekends and holidays / 9:30 to 20:30
Opening Hours in Summer Time / 9:30 to 20:30
¦ Limited to every Saturday in August
¦ Operation may be cancelled at bad weather (rain / strong wind, etc.)
MASUMIZU in Winter Season
MASUMIZU Highland is opened as ski slopes during late December every year and middle of March in the next year.
(Differs depending on weather/ snow conditions)
Ski trail stretched out just after walking out of free parking lot is busy with many people every year since the ski trail is enjoyable for beginners, experienced regardless to say, even families with young children.
Lighting facilities are completed and you would fully enjoy winter sports while viewing night scene in fantastic atmosphere different from day time scene.
It takes about 10 minutes from the exit of Mizokuchi, Yonago Automobile Road, to the ski slope, and interchange access is DAISEN Number 1.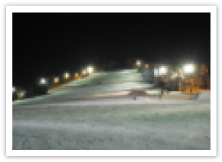 Resting Easy for Small Childrenô Kidsf Park!
"Kidfs Ski Trail" where small children younger than elementary school kids are playing at ease Is permanently installed.
Childrenfs smile is shining playing with snow in the broad space surrounded by safety net. Ski school and nature experience event are also held.
(Please ask for details)
You would have various snow play experience with your family such as sled and snowman making with your children.
¦ Rest station is located in near distance. Diaper-changing table and baby chairs are installed.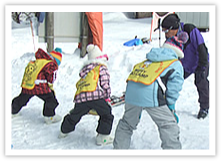 Kidsf School

Exercising surely from basic is the royal road to improvement!!
Many children are attending in an enjoyable format every year.
¦ Advanced Reservation Only (Please make reservation at the field station)
Lift is Reasonable! Enjoy with Economy!
Reasonable Coupon Tickets needless to say, various kinds of tickets such as night time tickets usable after 17:00 are available.
You would use tickets with economy depending on your utilization time.
All Right if you do not have any tools. Rental is fulfilled!
All Right if you do not have any tools. Rental is fulfilled!
You may feel free to show up because "MASUMIZU Field Station" is preparing a set of rental service from wear to ski/ snow board.
¦ Small articles such as goggle/ knit hat and glove are limited to selling for sanitary reasons.
¦ Quantities are limited.
The town is full of green and a lot of staple are grown from rich soil in the foot of Mt. DAISEN.
There are many sites to be seen in near area.
In case of ascending from Mizoguchi Exit of Prefectural Highway Route-45, you will reach to the junction of three streets from where the field station being an action post is seen.
There are 250 car spaces at peripheral parking lot. (Free parking charge)
¡ Access by Train
EShin-Osaka ¨ Okayama ¨ Yonago (about 2 hours 40 minutes)
EOkayama ¨ Yonago (about 2 hours)
In case of using a car from Yonago railroad station: Yonago station ¨ Mizokuchi (about 30 minutes)
¡ Access by Car
(Chugoku Expressway: via Ochiai JCT )
EOsaka ¨ Mizoguchi (about 3 hours)@@@@@EOkayama ¨ Mizoguchi (about 1 hour 30 minutes)
EHiroshima ¨ Mizoguchi (about 2 hours 30 minutes)
¡ Access by Airplane
ETokyo ¨ Yonago airport (about 1 hour 15 minutes) ¦ANA : 5 services a day
The MASUMIZU Field Station absolutely is the visitor center and is a hot station being the rest and activity base post for DAISEN Highland.
Free Rest Station/ Rest Room on the First Floor
At the restaurant "HANA" on the second floor, you could enjoy specialty menu of cooking with domestic/ local foodstuffs such as "Fillet Steak Hamburger of Japanese Cow from Tottori" which earned the grand prix prize, "New Specialty Cooking Contest" of Fine Food, Tottori Prefecture.
Facilities such as lecture room/ conference room (charged) / child development center (charged, advanced reservation system), etc. are located on the third floor.
Opening Hours
Expanse Lift / April to November (Spring to Autumn Season)
¡

Weekdays / 10:00 to 17:00


¡

Weekends and holidays / 9:30 to 20:30
¦ Fixed Holidays / Tuesdays (the following day if a public holiday falls on Tuesday)

¡

Opening Hours in Summer Time / 9:30 to 20:30@¦ Limited to every Saturday in August
Ski Lift / Winter Season
¡

Weekdays / 8:30 to 17:00@@

¡

Weekends and holidays / 8:00 to 17:00

¡

Opening Hours in Night Time / (Mon, Wed, Fri, Sat and the day before holiday) until 21:00
Restaurant / April to November (Spring to Autumn Season)

¡

11:00 to 16:00@@¦Fixed Holidays / Tuesdays (the following day if a public holiday falls on Tuesday)
Restaurant / Middle of November to March (Ski Season)

¡

Weekdays, Sundays, and Holidays / 10:00 to 16:00@@

¡

Fridays and Saturdays / 10:00 to 20:00
¦Last call at the restaurant is 30 minutes before close.
Child Development Center

By Advance Reservation only for Saturdays, Sundays and Holidays (Accepted by three days in advance)
¡

Opening Hours / AM 10:00 to 12:00, PM 13:00 to 15:00@@

¡

Coverage: From Babies to Middle School Kids

¡

Booking Counter / Information Desk on 1F, Field Station

¡

Talking Location / In Field Station Room

¡

Charge per Person / ¥4,000 for 2 hours (insurance fee included) normally
We are asking your carrying-in of beverage, snack and food.
Date and time of use are adjustable because of advanced reservation only.
@
Credit Cards are Acceptable.
/ VISA . JCB . MASTER . NICOS . AMEX . UnionPay